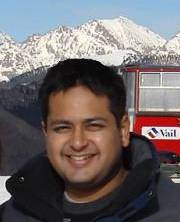 Hello! Namaste!
You have reached the online domain of Suhail Halai! Feel free to move around, relax, and enjoy your stay - click on the links on the left, take a look at some of my projects, and some solutions to everyday consumer problems, and some of my favorite links.
I am best described as the creative-genius, innovator-on-demand, budding entrepreneur, adventure-hunter, in-house-inventor, once-upon-a-scientist, tech-support-for-family-and-friends. Among my other interests, I love traveling across the country, enjoying the diversity of the land and taking in the human experience. Some part of me wants to be a social scientist, another wants to be an economist, and yet another wants to be the entrepreneur with the "next" hit idea (I already have a couple in my head). In the meanwhile, I spend time absorbing the business and technology environment, and sparking new ideas over coffee.
I work for a fast paced startup, aptly called iRise. It is a Management Consulting firm started by some brilliant Accenture alumni. We are at the cutting edge of a nascent software visualization industry. I work as a Senior Consultant, helping our clients integrate our product and strategy into their processes.
Previously, I worked with BearingPoint (formerly KPMG Consulting), in the Financial Services Practice as a Business Consultant for over 3 years. I have also had a couple of stints at SunTrust and several key projects in the Financial Industry.
I obtained my Bachelor of Business Administration degree in MIS (Management Information Systems) from the University of Georgia, Terry College of Business (UGA Alumni, Class of 2003).
My Key Skills:
Business / Information Skills

Enterprise Skills

Process Modelling, Data Flow Diagrams
Executive Information Systems
Expert Systems, AI Decision Engines
Sox-Compliance, Document Management
Expert MS Excel, MS Word, MS Office

Loan Origination Systems
Enterprise Resource Planning
ERP Financial, Purchasing, Vendor
SAP R/3

Web and Multimedia Technologies

Database, SQL and Systems

HTML, ASP, PHP
Dreamweaver, Flash, Fireworks
Apache Web Server, IIS
Digital Imaging, Photoshop, DTP

Data Modeling, SQL
Access, NetDB2, MS-SQL, Sybase
C, C++, Visual Basic.Net

Telecommunications

Networking, PC and Hardware

DSL, Cable, FiOS Internet Concepts
VoIP, IP Telephony Concepts
Broadband Concepts
T1 and T3 lines, POTS Concepts

LDAP, NFS and Novell
LAN, WAN, Firewall Configuration
Routers, Wireless Wi-Fi protocols
Windows OS Troubleshooting
PC Assembly and Hardware
I am open to opportunities. I am always chasing innovative and ground breaking ideas!